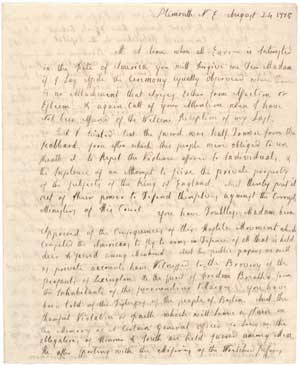 GLC 1800.2. The Gilder Lehrman Collection
MERCY WARREN (1728-1814). Autograph letter signed, dated Plimouth, NE [New England], 24 August 1775, to Catharine Macaulay.
The Revolutionary War was under way when Warren wrote this letter to Macaulay in August 1775. Her "short account of the present situation of American affairs in the environs of Boston," mentioned the fighting at Lexington and Concord. She also described the Continental Army and its commander in chief.
We have a well appointed brave & high spirited continental army. Consisting of about twenty two thousand men. Commanded by the accomplished George Washington....