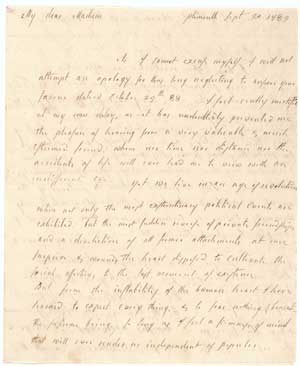 GLC 1800.4. The Gilder Lehrman Collection
MERCY WARREN (1728-1814). Autograph letter signed, dated Plimouth [Massachusetts], 20 September 1789, to Catharine Macaulay.
The first president of the United States had been in office for only five months when Warren wrote this letter to Macaulay. Warren was concerned about the new nation's stability. She also worried that the powerful Constitution and federal government would jeopardize the liberties for which the patriots had struggled. "We live in an age of revolution," she explained.
It is time we have a government established & a Washington at its head. but we are too poor for Monarchy, too wise for despotism, and too dissipated selfish & extravagant for Republicanism....