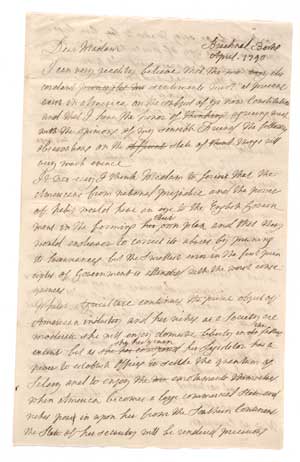 GLC 1800.05A. The Gilder Lehrman Collection
CATHARINE MACAULAY (1731-1791). Autograph draft signed, dated Binfield [Berkshire], April 1790, to Mercy Warren.
Macaulay responded to Warren's concerns about the American Constitution and the power of the new federal government. She wrote that she was in agreement with the "opinions of my sensible Friend." She, too, worried that the "insidious distinctions of aristocracy will be easily introduced and the more so from the circumstance of the Legislator being divided into an upper and a lower house." Macaulay also compared the new French government with the American system.
The French in establishing their government had equally with the Americans an eye to their neighbors the English but the vicinity of the two countrys furnished them with the opportunity of seeing the deformities of our government...