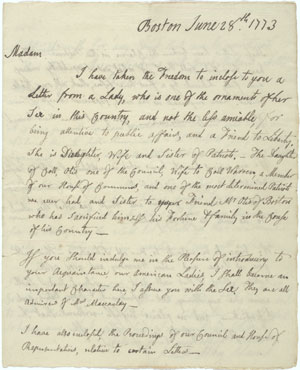 GLC 1786. The Gilder Lehrman Collection
JOHN ADAMS (1735-1826). Autograph letter signed, dated Boston, 28 June 1773, to Catharine Macaulay.
John Adams, the colonial patriot who would become the second president of the United States, was a frequent correspondent of Catharine Macaulay and a friend of Mercy Warren. He introduced them to each other through this letter.
Describing Warren as "a Daughter, Wife and Sister of Patriots," Adams wrote that she was "not the less amiable for being attentive to public affairs."
His description reminds today's readers that it was considered unusual in the eighteenth-century for women to be interested in activities outside of their domestic sphere.