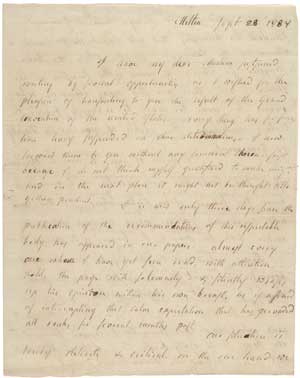 GLC 1800.3. The Gilder Lehrman Collection
MERCY WARREN (1728-1814). Autograph letter signed, dated Milton [Massachusetts], 28 September 1787, to Catharine Macaulay.
Delegates to the Constitutional Convention approved the Constitution of the United States on 17 September 1787. Eleven days later Warren wrote this letter to Macaulay describing the public reaction and her own thoughts on the proposed document.
Almost every one whom I have yet seen reads with attention, holds the page with solemnity & silently wraps up his opinion within his own breast....