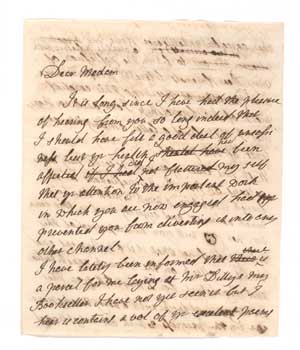 GLC 1800.05B. The Gilder Lehrman Collection.
CATHARINE MACAULAY (1731-1791). Autograph draft signed, dated Binfield [Berkshire], March 1791, to Mercy Warren.
Macaulay and Warren often sent their publications to each other as gifts. With the letter shown here, Macaulay sent Warren a copy of her Observations on the Reflections of the Right Hon. Edmund Burke on the Revolution in France. In that pamphlet, she praised the French for taking action to create a better society and system of government. Macaulay did not believe, as Burke believed, that the revolution would degenerate into chaos and tyranny.
Observations was to be her final work. Macaulay died three months after this letter to Warren was written. In it, she continued to encourage Warren's study of history.