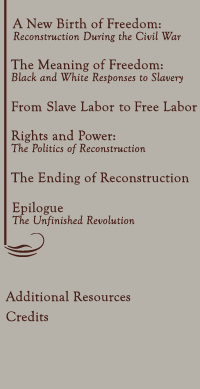 The Centennial Election
In 1876, the United States marked the centennial of the Declaration of Independence. A yearlong exposition in Philadelphia celebrated a century of material and moral progress. Yet the year's election campaign was again marked by violence in the South. The Bargain of 1877 resolved disputes over the election's results, and resulted in the final abandonment of Reconstruction.
By 1876, Reconstruction had been overthrown in all the Southern states except South Carolina, Louisiana, and Florida. The presidential election hinged on the outcome in these states, which both parties claimed to have carried.
After prolonged controversy and behind-the-scenes negotiations, Democratic and Republican leaders worked out a solution to the disputed election of 1876. In the Bargain of 1877, Republican Rutherford B. Hayes became president, and he, in turn, recognized Democratic control of the remaining Southern states and promised to end federal intervention in the South. United States troops who had been guarding the state houses in South Carolina and Louisiana were ordered to return to their barracks (not to leave the region entirely, as is widely believed). The Redeemers, as the Southern Democrats who overturned Republican rule called themselves, now ruled the entire South.