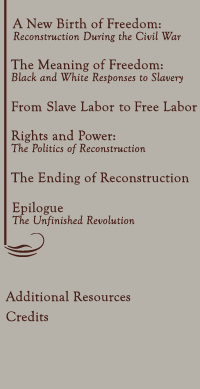 "Let Us Clasp Hands Over the Bloody Chasm," Harper's Weekly, October 19, 1872.
Click image to enlarge.


Thomas Nast satirized Horace Greeley's call for sectional reconciliation in 1872.
Although Greeley lost the election for president, many Northerners sympathized with his call for a return to rule by "traditional leaders" in the South so that the nation could put the Civil War and Reconstruction behind it.