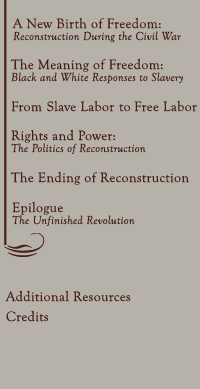 Biographical Sidebar:
Mifflin Gibbs and Jonathan Gibbs
The sons of an African American minister in Philadelphia, Mifflin Gibbs (1823-1915) and Jonathan Gibbs (1827-1874) had remarkable careers before becoming involved in Reconstruction politics.
Mifflin Gibbs
A building contractor active in the antislavery movement, Mifflin Gibbs left Philadelphia for California in 1850 to take part in the gold rush. In 1855, he founded the state's first black newspaper, which campaigned for granting California blacks the right to vote.

Three years later, Gibbs moved to British Columbia, where he became involved in mining and railroad ventures and was twice elected to the Victoria city council.
Mifflin Gibbs returned to the United States after the Civil War, studied at Oberlin College, and in 1871 moved to Arkansas, where he served as a judge in Little Rock. As an attorney, he won a case against a saloon that refused to serve black patrons.
Gibbs remained active in Republican politics into the twentieth century, and from 1897 to 1901 was U. S. consul at Madagascar.