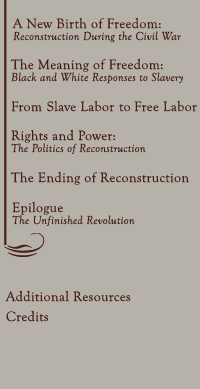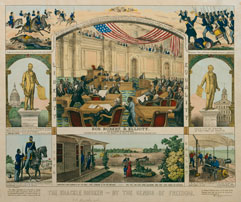 "The Shackle Broken By The Genius of Freedom," 1874. (Chicago Historical Society)
Click image to enlarge.

A print celebrating the heroes and history of black freedom depicts the famous address by Congressman Robert B. Elliott in favor of the bill that became the Civil Rights Act of 1875.
The print also includes a portrait of the bill's author, Charles Sumner, an image of Lincoln, and an optimistic view of the future with a scene of black family captioned,
"American Slave Labour Is of the Past - Free Labour Is of the Present - We Toil for Our Children and Not for Those of Others."