The Decision to Intern Japanese Americans
This short, silent film from 1942 shows scenes of Japanese-Americans being shipped out of California on their way to "internment."

http://archive.org/details/ssfjapint

Time: 23 seconds, format: AVI, file size: 5.6 M
People involved in the incarceration:
Identify the following figures who helped make the decision to intern Japanese Americans:
Major Karl R. Bendetsen, Chief of the Aliens Division
Attorney General Francis Biddle
Lieutenant General John L. De Witt
Judge Advocate General Allen W. Gullion
Secretary of the Treasury Henry Morgenthau, Jr.
Secretary of War Henry L. Stimson
Agencies involved in Incarceration
Western Defense Command was an army command area consisting of eight western states.
Wartime Civil Control Administration (WCCA) was responsible for the "assembly centers" evacuation.
War Relocation Authority (WRA) ran the concentration camps.

Read the following pieces of evidence and explain:
Why did the U.S. decide to relocate the entire west coast Japanese American population?
Who was most responsible for this decision?
Primary Source Documents:
1941
1942
1943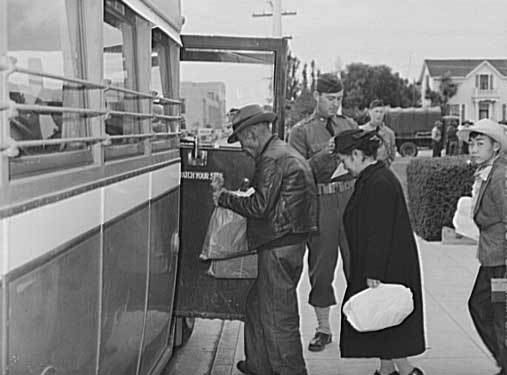 Salinas, California. Japanese-Americans boarding bus for transportation to reception center.
Russell Lee, photographer, 1942 May. Library of Congress.