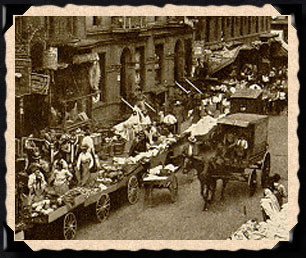 The Ghetto of the New World

From a stereograph copyright 1905
by Underwood & Underwood, NY
East of the Bowery in New York City is the heart of the largest Jewish community in the world. Sidewalks, street signs, language, all indicate the process of development.
Many immigrants settled in New York City's Lower East Side. In 1890, the Lower East Side had the highest population density in the world--335,000 people to the square mile. While middle- class New Yorkers led their lives in offices and private homes, on the Lower East side much of the business and recreation took place on the streets.
Page 7

Page 9