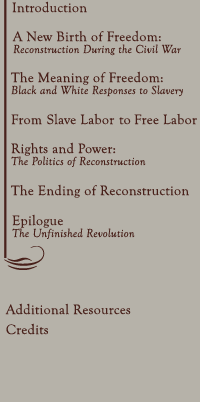 Quest for Economic Autonomy and Equal Rights
The desire for autonomy and equality shaped African-Americans' definition of freedom. Blacks wished to take control of the conditions under which they labored, and carve out the greatest possible economic independence. In public life, they demanded recognition of their equal rights as American citizens.

Immediately after the Civil War, blacks throughout the South organized mass meetings and conventions demanding equality before the law, the right to vote, and equal access to schools, transportation, and other public facilities.
The end of slavery, they insisted, enabled America for the first time to live up to the full implications of its democratic creed by abandoning racial discrimination and accepting blacks (or at least the adult males among them) into the political nation.

Free blacks, ministers, artisans, and former soldiers predominated at these early meetings. Many of the delegates would go on to distinguished careers of public service during Reconstruction.