Biographical Sidebar:
Robert B. Elliott
One of the South's most brilliant political organizers during Reconstruction, Robert B. Elliott (1842-1884) appears to have been born in Liverpool, England, of West Indian parents and was educated in England, graduating from Eton College in 1859. He came to Boston on an English naval vessel shortly after the Civil War.
After moving to South Carolina in 1867, Elliott established a law practice and helped to organize the Republican party. He "knew the political condition of every nook and corner throughout the state," said one political ally.
Elliott served in the constitutional convention of 1868 and the state legislature, and was twice elected to Congress.
He resigned in 1874 to fight political corruption in South Carolina, where he became Speaker of the House.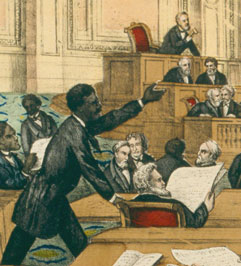 In Congress, Elliott delivered a celebrated speech in favor of the bill that became the Civil Rights Act of 1875, which prohibited discrimination in public accommodations because of race. Elliott himself had been denied service in a restaurant while traveling to Washington.
In 1881, Elliott headed a delegation that met with president-elect James A. Garfield to complain that with the end of Reconstruction, Southern blacks were "citizens in name and not in fact."