Biographical Sidebar:
Adelbert Ames
A native of Maine, Adelbert Ames (1835-1933) graduated fifth in his class in 1861 from the U. S. Military Academy at West Point. His graduating class not only provided officers for the Civil War but also leaders in politics, business, and the military, including Henry Algernon du Pont of the chemical family, George Armstrong Custer and Yellowstone explorer John Whitney Barlow.
He served with distinction in the Union army, winning the Congressional Medal of Honor for bravery at the battle of Bull Run.
He married Blanche Butler,the daughter of Benjamin Butler, later the Governor of Massachusetts and unsuccessful presidential candidate in 1884 against Grover Cleveland.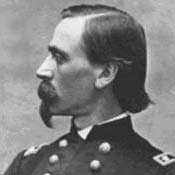 Appointed by President Grant to command the fourth military district (including Mississippi) under the Reconstruction Act of 1867, Ames became convinced that he "had a Mission with a large M" to assist the former slaves. He appointed blacks to local offices and ordered that, for the first time in the state's history, they be eligible to serve on juries.
Elected to the U. S. Senate in 1870, Ames became leader of the Republican faction that opposed the moderate policies of Gov. James L. Alcorn.
In 1873, black leaders urged Ames to run for governor, and he handily defeated Alcorn. As governor, Ames attempted to reduce the cost of government and make public land available to the former slaves.
In 1875, Democrats launched a violent campaign to win control of the Mississippi legislature. Ames appealed for federal intervention to restore order, but without success.
After the Democratic victory, Ames resigned as governor, returned to the North, and went into his father's flour-milling business in Northfield, Minnesota.
In 1876 Jesse James's gang of outlaws, who had been ardent supporters of the Confederacy, attempted to rob a bank in which Ames and his father-in-law had invested.
In 1898, he served as a general in Cuba during the Spanish-American War.
Ames' daughter, Blanche Ames became an artist and a leader in women's suffrage.

Learn more about Blanche Ames from John Lienhard's Engines of Our Ingenuity