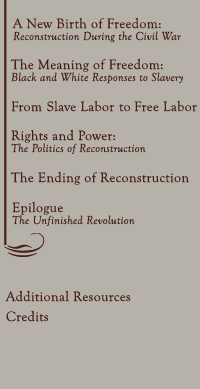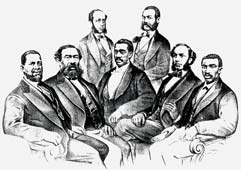 "The First Colored Senator and Representatives,"
Currier & Ives, 1872. (Library of Congress)
Click image to enlarge.

The Forty-First and Forty-Second Congress included black members for the first time in American history. A total of sixteen blacks served in Congress during Reconstruction.
This commemorative print issued at the time portrays Senator Hiram Revels of Mississippi, and representatives Robert DeLarge of South Carolina, Jefferson Long
of Georgia, Benjamin Turner of Alabama, Josiah Walls of Florida, and Joseph Rainey and Robert B. Elliott of South Carolina.