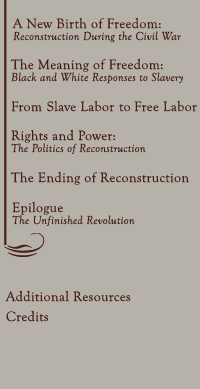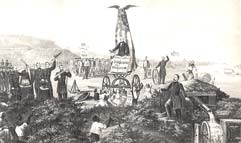 "Reconstruction of the South," c. 1870. (National Museum of American History)
Click image to enlarge.
An optimistic view of Reconstruction with Biblical overtones presents key elements of the Republican plan to remake the South along Northern lines: education, capital, and economic development.

The central figure is George Peabody, whose philosophy supported Southern schools but opposed racial integration.
On either side are Union Army officers transforming military weapons into tools for agriculture.
In the background "300,000" mechanics, backed by northern capital, carry tools for the "Reconstruction of the Union."