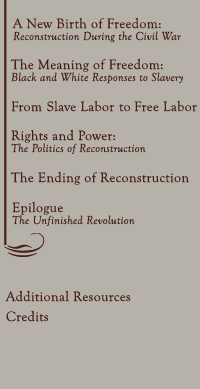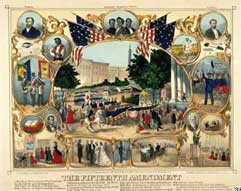 "The Fifteenth Amendment," 1870.
(Chicago Historical Society)
Click image to enlarge.
In addition to voting rights, this colorful print celebrates the rights of blacks to run for political office, own land, and worship freely. Its heroes include Frederick Douglass, Abraham Lincoln and John Brown.

The Fifteenth Amendment declared that the right to vote could not be denied "on account of race, color, or previous condition of servitude." It did not explicitly guarantee the right to hold office or serve on juries; nor did it ensure federal protection of voting rights.
Nevertheless, at a time when only seven northern states allowed blacks to vote, the Fifteenth Amendment represented a significant step toward legal equality.