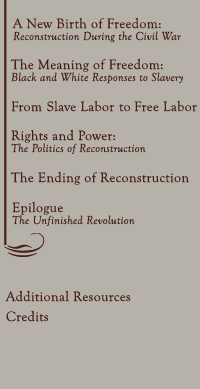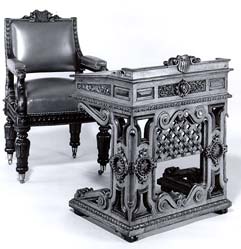 Desk and chair used in the U.S. House of Representatives during Reconstruction. (Chicago Historial Society)
Click image to enlarge.

Congress adjourned in March 1865, prior to Robert E. Lee's surrender, and did not reconvene until December. During that interval, President Andrew Johnson permitted the creation of white-only governments in the South headed (in every state except Tennessee) by former supporters of the Confederacy.
When Congress reassembled, the South's representatives included the Confederate vice president, six members of the Confederate Cabinet, and four Confederate generals.
In 1866, after the president had denounced Congressional efforts to extend citizenship rights to former slaves, claiming that they would "destroy our institutions and change the character of our government," Republicans in Congress seized control of Reconstruction from the president.