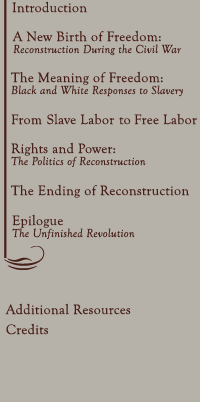 The Meaning of Freedom:
Black and White Responses to the End of Slavery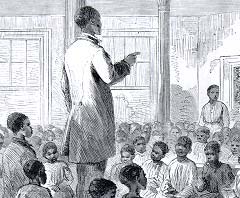 Confederate defeat and the end of slavery brought far-reaching changes in the lives of all Southerners. The destruction of slavery led inevitably to conflict between blacks seeking to breathe substantive meaning into their freedom by asserting their independence from white control, and whites seeking to retain as much as possible of the old order.

The meaning of freedom itself became a point of conflict in the Reconstruction South. Former slaves relished the opportunity to flaunt their liberation from the innumerable regulations of slavery.
Immediately after the Civil War, they sought to give meaning to freedom by reuniting families separated under slavery, establishing their own churches and schools, seeking economic autonomy, and demanding equal civil and political rights.
| | |
| --- | --- |
| Most white Southerners reacted to defeat and emancipation with dismay. Many families had suffered the loss of loved ones and the destruction of property. Some thought of leaving the South altogether, or retreated into nostalgia for the Old South and the Lost Cause of the Confederacy. | |
| | |
| --- | --- |
| | In 1865 and 1866 many white Southerners joined memorial associations that established Confederate cemeteries and monuments throughout the region. Others, unwilling to accept a new relationship to former slaves, resorted to violent opposition to the new world being created around them. |
Next