The most famous "rehearsal for Reconstruction" took place on the Sea Islands just off the coast of South Carolina.
When the Union navy occupied the area in November 1861, the white population fled, leaving behind a community of some 10,000 slaves, who believed freedom meant access to land and the ability to direct their own labor.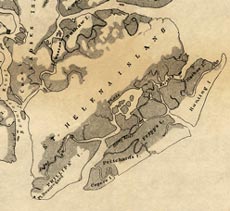 Map of St. Helena Island, South Carolina.
from a map: Coast of South Carolina from Charleston to Hilton Head. by the United States Coast Survey. 1862.
Library of Congress