Digital History>eXplorations>Japanese American Internment>Internment Resources>Chart Showing Relocation Center Population Data
See also: Map showing Department of Justice Internment Camps and Relocation Centers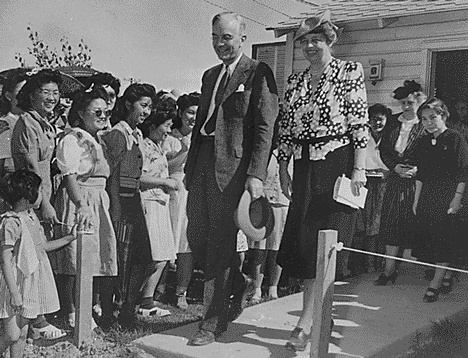 Eleanor Roosevelt at Gila River, Arizona at Japanese,American Internment Center, 04/23/1943
Item from Collection FDR-PHOCO: Franklin D. Roosevelt Library Public Domain Photographs, 1882 - 1962
Statistics
State

Name of Camp

Opened

Closed

Total Time Open

Peak Population

Arkansas
Rohwer
Sept. 18, 1942

Nov. 30, 1945
3 years, 3 mos.
8,475

Jerome

Oct. 6, 1942

June 30, 1944

1 year, 8 mos
8,497

---

Arizona
Poston
May 8, 1942
Nov. 28, 1945
3 years, 6 mos.
17,814
Gila River
July 20, 1942
Nov. 10, 1945
3 years, 4 mos.
13,348

---

California
Tule Lake
May 27, 1942

Mar. 20, 1946
3 years, 10 mos.
18,789

Manzanar

Mar. 21, 1942

Nov. 21, 1945
3 years, 8 mos.
10,046

---

Colorado
Amache
(aka Granada)
Aug. 27, 1942

Oct. 15, 1945
3 years, 2 mos.
7,318
Idaho
Minidoka
Aug. 10, 1942

Oct. 28, 1945
3 years, 2 mos.
10,046
Utah
Topaz
Sept.11, 1942

Oct. 31, 1945
3 years, 1 mos.
8,130
Wyoming
Heart Mountain
Aug. 12, 1942

Nov. 10, 1945
3 years, 3 mos.
10,767

---

Total People under WRA control
120,313
In all, 120,313 people were under WRA control.
90,491 were transfered from assembly centers
17,491 were taken directly from their homes
5,918 were born to imprisoned parents
1,735 were transferred from INS internment camps
1,579 were moved here after being sent from assembly centers to work crops
1,275 were transfered from penal and medial institutions
1,118 were taken from Hawaii
219, mostly non-Japanese spouses, entered voluntarily.
Of these 120,313:
54,127 returned to the West Coast after their incarceration
52,798 relocated to the interior
4,724 moved (or were moved) to Japan
3,121 were sent to INS internment camps
2,355 joined the armed forces
1,862 died during imprisonment
1,322 were sent to institutions
4 were classified as "unauthorized departures."
Source: Roger Daniels, Sandra Taylor, and Harry Kitano (Eds.) ; Japanese Americans, from Relocation to Redress; University of Utah Press; Salt Lake City, Utah; 1986.