Image information: Manzanar street scene, clouds, Manzanar Relocation Center, California, photograph by Ansel Adams, digital file from original print http://hdl.loc.gov/loc.pnp/ppprs.00284
Japanese-American Internment
During World War II, the federal government ordered 120,000 Japanese-Americans who lived on the West coast to leave their homes and live in 10 large relocation camps (see Internment Map) in remote, desolate areas, surrounded by barbed wire and armed guards. Two-thirds were native-born American citizens.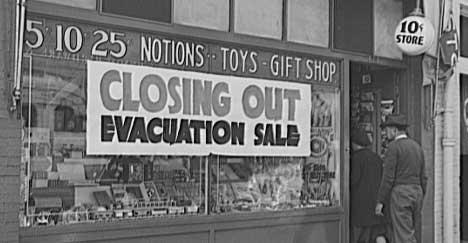 Evacuation sale during Japanese Relocation. FDR Library.
Japanese-Americans were interned as a result of an executive order (see Executive Order No. 9066) by President Roosevelt in 1942. About 77,000 American citizens and 43,000 legal and illegal resident aliens were affected by the order. The last camp was closed in January 1946, five months after World War II ended.
It would not be until 1988 that the U.S. government formally apologized, provided compensation to those who were interned, and created an education fund to preserve the history and to teach the lessons of this shameful episode. (see Redress for Japanese Internees)
Two of the chief backers of a national apology had themselves been interned. Representative Robert Matsui of California was 6 months old when his family was interned.

His family had just 48 hours to relocate. His father was forced to sell their house in Sacramento for $50 and simply abandon his small produce business.

Learn more about Robert Matsui and the internment of his family at Tule Lake Camp. (see Recalling the U.S. Internment of the Japanese With Congressman Robert Matsui, John F. Kennedy Library and Foundation Responding To Terrorism Series, November 4, 2001)
U.S. Secretary of Transportation Norman Mineta of California was ten years old; he and his family were forced to live, at first, in a converted stables at a racetrack; later, they spent a year in an internment camp in a forbidding part of Wyoming.

Mineta recalled being given the priviledge of signing the House bill, HR 442, after it had passed.

"There has never been a moment when I loved this country more," he said. Redress was "the best expression of what this nation can be and the power of government to heal and make right what was wrong."

Learn more: Japanese American National Museum
Another sponsor, Democrat Senator Daniel K. Inouye of Hawaii, who served in the 442nd regiment combat team, made up entirely of Japanese Americans. He lost his right arm fighting in Italy and was awarded a Bronze Star and two Purple Hearts.

Learn more about the 442d combat team in "21 Asian American World War II Vets to Get Medal of Honor"

He was first Congressman from Hawaii and the first American of Japanese descent to serve in either House of Congress.

Learn more about Senator Inouye's combat experience during World War II from his website, Go For Broke, a condensation of his book, Journey to Washington.

The warning radio suddenly emitted a frenzied cry: "This is no test! Pearl Harbor is being bombed by the Japanese! I repeat: This is not a test!"

"Papa," I cried, and then froze into stunned immobility. Almost at once my father was in the doorway with agony showing on his face, listening, caught by that special horror instantly sensed by all Americans of Japanese descent.

". . . not a test. We can see the Japanese planes . . ."
''Yes, the nation was then at war, struggling for its survival,'' said President Ronald Reagan at the White House. ''And it's not for us today to pass judgment upon those who may have made mistakes while engaged in that great struggle. Yet we must recognize that the internment of Japanese-Americans was just that, a mistake.'' More than a mistake, it was a grave violation of civil liberties and a blot on America's commitment to constitutional rights.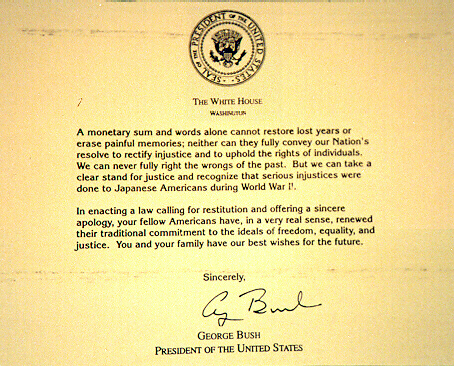 The Civil Rights Act of 1988 (HR442) awarded redress
to all surviving internees or their relatives.
President George Bush sent this formal apology letter along with a $20,000 check.
Exploration Questions
Why were Japanese Americans expelled from their homes and incarcerated in internment camps - even though not one Japanese American was charged with espionage or sabotage during the war - and why did internment last, on average, for nearly three years?
Why were west coast Japanese American citizens relocated - while Japanese Americans in Hawaii and German-Americans and Italian-Americans were not?
Why were all west coast Japanese Americans interned, citizens and aliens, children and adults, and why was this policy upheld by the federal courts?
What was the impact of this experience upon the lives of Japanese Americans?