Digital History>Virtual Exhibits>Frederick Douglass' Letter to Mary Todd Lincoln
Frederick Douglass' Letter to Mary Todd Lincoln
In this letter, Douglass thanks recently widowed Mary Todd Lincoln
for her gift of Abraham Lincoln's walking cane.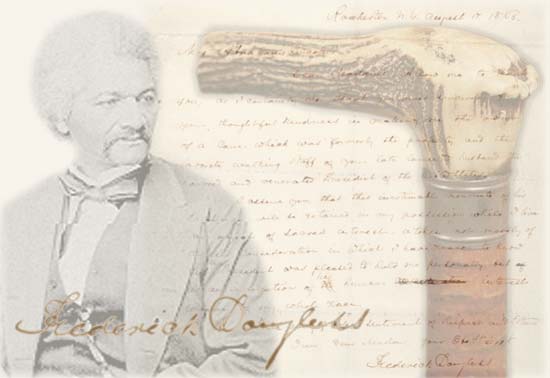 Douglass' relationship with Lincoln had been complex. In the 1860 presidential election, he broke with the Radical Abolitionist party to support Lincoln, the candidate of the new Republican party. Lincoln did not advocate outright abolition of slavery, but he did vigorously oppose its extension into the territories. Douglass saw opportunity for progress with a party that had a chance of victory.
After the election and the outbreak of the Civil War, Douglass continually urged President Lincoln to move more swiftly on emancipation and recruitment of black troops. Though frustrated at times with the president's pace on these matters, Douglass was ultimately convinced of Lincoln's significant contributions to the advancement of African-Americans.