Back to The Calhoun Industrial School Exhibit
Ellis, R. H. (1984). The Calhoun School, Miss Charlotte Thorn's "Lighthouse on the Hill" in Lowndes County, Alabama. The Alabama Review, 37(3), 183-201.
Reprinted with permission from by The Alabama Review (http://www.auburn.edu/~bamarev/),
copyright July, 1994, by the University of Alabama Press (http://www.uapress.ua.edu/).
All rights reserved.
At the close of the Civil War the primary ambition of the slaves, to be free, had been fulfilled. They then set about obtaining freedom's corollary, education, which they believed would give them equality with white men. Blacks considered labor the bond that had fettered them during the years of slavery and education the key that would free them from this bond forever.1 Booker T. Washington declared that blacks had been "compelled to work for two hundred fifty years, and now they wanted their children to go to school so that they might be free and live like the white folks-without working."2 Although this viewpoint might appear somewhat exaggerated, the zeal with which emancipated blacks pursued education was very real indeed.
Unfortunately, little money existed in the post-Civil War South for education. Compounding the financial problem were the opposition to free schools for either race, the racial prejudice heated by emancipation, and the necessity of a dual school system to serve a widely scattered populations circumstance nearly doubling the cost to the taxpayers (of whom 90 percent were white). Small wonder that the south accomplished little to alleviate black illiteracy.
Northern concern for blacks did not end with emancipation. Sponsored by churches, benevolent societies, and government agencies, many individuals came South to assist in the adjustment from slavery to freedom. In spite of their good intentions these educators found their classical approach to education unsuited to the needs of the freedmen. Southerners, meanwhile, declared that the blacks were being indoctrinated, not educated. Caught in the midst of these disagreements, blacks remained largely illiterate.
Prior to the war, slaves had been a unit in Southern agricultural society. Although their servile position was an unnatural and undesirable one, work and contact with the whites, however limited, trained blacks not only in agriculture but also in basic domestic arts, in proper health habits, and in working as part of a nearly self-sufficient household. The Civil War and Reconstruction eras ended this training, and freedom evolved into yet another form of slavery.
However, one approach to black education offered encouragement: the industrial school, promoted by General Samuel C. Armstrong and epitomized in Hampton Institute located in Virginia. At the war's end Armstrong became responsible for some ten thousand freed slaves camped near Hampton, Virginia, in hopeless poverty and disorganization. He worked vigorously to create order out of this chaos and found that the methods that his father had used as a missionary to the natives of Hawaii could become the core of a program of manual and agricultural training. He stressed the moral and spiritual content of all work, even the simplest task, and the building of character through work, the making of a life rather than a living. He believed that only through the training of the whole man-mind, body, and soul-could the individual successfully be integrated into society.3 In addition, Armstrong saw industrial education as a means of bettering race relations. Differences between whites and blacks would change slowly over a long period of time, but he believed that as soon as Southern white men understood that "an educated skilled Negro workman was of more value to the community than an ignorant, shiftless one, the southern white man would take an interest in the education of the black."4 As Armstrong saw the solution, black youths should be educated who could
teach and lead their people, first by example, by getting land and homes; to give them not a dollar that they could earn for themselves; to teach respect for labor, to replace stupid drudgery with skilled hands, and to those ends to build up an industrial system for the sake not only of self-support and intelligent labor, but also for the sake of character.5
Armstrong's most famous pupil was Booker T. Washington, founder of Tuskegee Institute in Alabama. Both men believed that work developed character as well as habits of industry.6 Others under Armstrong's charismatic influence were also convinced of the merit of industrial education in aiding freedmen. Such a one was Charlotte R. Thorn, an attractive Yankee socialite from New Haven, Connecticut, who, at the age of thirty-five, founded the Calhoun School in Lowndes County, Alabama. Patterned after Hampton Institute, the school demonstrated that General Armstrong's principles for collegiate education could be successfully practiced on the high school level, even in the poverty-stricken backwashes of the Alabama Black Belt.7
As the daughter of a surgeon who was an officer in the U.S. Navy, Miss Thorn enjoyed all the pleasures and security associated with a well-to-do, aristocratic family. Her days were filled with teas, luncheons, and diversions common to upper-class young ladies during the late 1800s. Attractive and quick-witted, she was troubled by nothing more serious than perhaps the decision of which gown to wear or which escort to accept for a particular dinner party.8
At a gathering in her family's home in the late 1880s she met General Armstrong. Accustomed to the usual light party repartee, she was understandably startled when Armstrong, in the course of their conversation, abruptly inquired of her, "Do you know you are going to Hampton to teach Negroes?" Too astounded to do otherwise, she listened to him. As he told her of the plight of emancipated slaves, he urged her to utilize her intelligence and training for the benefit of those less fortunate than she. She laughed at the mention of her "training" and declared that her greatest accomplishment to date was playing cards. But evidently Armstrong sensed strength beneath this intelligent young woman's social veneer. Any attempt to relate what transpired next would be conjecture, but the next season found Charlotte Thorn teaching at Hampton Institute.9
Charlotte Thorn (W.N. Hartshorn, ed.,
An Era of Progress and Promise 1863-1910
[Boston, 1910], 334, Hampton Institute, Hampton, Virginia)
There she met and became close friends with another teacher, Mabel W. Dillingham. They had similar tastes and enjoyed a very pleasant life, but their introduction to Booker T. Washington on a visit to Hampton changed their lives. His description of the tragic plight of Alabama blacks anxious for an education for their children so touched the two women that they sat up late in the night talking.10 The next day they informed Washington that they wanted to go to Alabama to teach and asked him to help them to find a place where the people were most in need. On his return to Tuskegee he considered what would be the best location for their work and chose the town of Calhoun in Lowndes County in the heart of the Alabama Black Belt. Upon receiving a letter informing them of his choice the ladies enthusiastically began their preparations.11
In addition to the fact that Lowndes County had the largest proportion of blacks to whites of any Alabama county, other reasons pointed to this site. Concerned black men and women near Calhoun had been meeting regularly to pray that someone would come there and start a school.12 Calhoun was also a wise choice in Lowndes County because the nearby railroad offered accessibility to a rural area where roads were few, unpaved, and hilly-dusty in summer and precipitously slippery in winter.
Probably it was Mabel Dillingham who forged ahead in the plan to found the school at Calhoun. Hollis B. Frissell, the successor to General Armstrong as Hampton's president, wrote to Booker T. Washington describing Miss Dillingham as "pushing ahead in her usual enthusiastic way" in her work in Alabama. Although Frissell did not wish "to throw cold water upon her plans," he worriedly asked Washington who was directing Dillingham's work, for "she must have some one who will look at things more coolly than she is likely to do.... Patient endurance needs to be cultivated by her."13
October 1892 found the two young teachers in the midst of three hundred blacks who had come to the old Ramah Church near Calhoun. Because the church sat in an isolated area with no road to it, people had walked or ridden in carts or mule wagons to hear what the white women had to say about starting a school. Cold weather required the wearing of "right smart o' clo's" for all, declared one woman who wore three sunbonnets and two turbans, all the headgear in her family. Among those present was a seventeen-year-old girl who taught at the only school in the neighborhood. A young man from three miles away brought his entire student body; he planned to close his school and attend the new school along with his pupils. A Tuskegee graduate introduced the ladies who explained their plan. At the first meeting approximately two hundred and fifty dollars cash was raised. The group was emphatic in its distrust of banks, suggesting instead that the money be trusted to Booker T. Washington.14 The ladies dreaded asking that all students pay tuition, for money was extremely scarce; moreover, the community had thought the school would be free once they raised the money to build it. However, Washington had emphasized to the ladies the value of tuition in encouraging industry; he did not believe in giving something for nothing. Twenty-five, thirty-five, and fifty cents a month were set as tuition, according to grade level. One man remarked in an injured tone that he had thought his child would be worth more than fifty cents. "There is no charity in giving" became an integral part of the Calhoun School's philosophy.15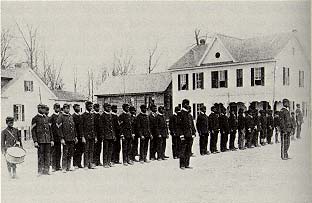 Students of the Calhoun School
(Hampton Institute Archives, Hampton, Virginia)
A board composed of prominent Northern businessmen and leading educators was formed, and outside supporting groups sought, because the expenses would far exceed the modest contributions of the community. The school was quite successful in attracting financial support from national philanthropic funds. Doubtless, Booker T. Washington influenced their grant from the Slater Fund, whose administrator was J. L. M. Curry, a Montgomerian, who believed that capital followed the schoolhouse.16 Support also came from the General Education Board, distributor of Rockefeller monies; the Westchester Association; the Frothingham Fund; and the New Haven Calhoun Fund, probably organized by hometown supporters of Miss Thorn. However, contributions were not limited to large philanthropic organizations. Many friends of Hampton Institute heard of Calhoun's needs through Hampton's official voice, The Southern Workman, and sent contributions. School reports also listed contribution from churches of various denominations, Sunday School classes, missionary societies, women's clubs, civic groups, and individuals from all walks of life.17 Nor were all contributors from the North. A Southern landowner, N. J. Bell of Montgomery, made perhaps the most significant donation, the initial ten acres of land that the founders had selected as the site for their school.18 Several years later Booker T. Washington recalled the selection of that site. It had been raining, and it rained harder and harder. After quite a wait Miss Dillingham suggested that the group provide for themselves in the best way possible against the wet weather and go outside. "I see her now," he remembered, "as she stood with an umbrella over her head and with the mud up to her ankles, while we decided upon the exact spot and measured off the ground where the first building was to be."19
The task before the women was awesome. Few whites spoke to or associated with the teachers, because they worked with blacks. Even the poorest whites ignored them and looked the other way when they passed. When the teachers' trunks and supplies arrived at the Calhoun railroad station, the townspeople could not understand why women of obvious refinement, judging from the piano and the tasteful, solid pieces of furniture, would voluntarily choose a life spent among blacks in the most backward part of a most backward county.20
The ladies did not consider themselves martyrs, however, and they asked for no sympathy. "Their pluck," one newspaper reported, was matched "by their good humor." They laughed when they heard that local whites speculated that they had run away from their husbands and hoped to gain anonymity in the Black Belt.21 Although the white community as a whole ignored the newcomers, the teachers were not totally without white friends. The Smiths, the Dickeys, the Bells, and the Chestnuts, as well as others provided invaluable advice on how to build, plant, harvest, and adapt in this environment so different from New England.22
Miss Thorn intended that the first building, the teachers' cottage, be a model in the community. This simple dwelling utilized natural materials available to any in the locality who wished to imitate it. Inside were flowers, pictures, and bright covers for the furniture, designed as object lessons in "home adornment." All who might wish to walk through the cottage at any time were welcomed. Many blacks toured the building, although many seemed strangely reluctant to go upstairs, perhaps because they were accustomed to one-story cabins.23 Construction of' schoolhouses, barns, shops, and dormitories soon followed completion of the teachers' cottage, and the cluster of white buildings came to be known as "The Lighthouse on the Hill." Many of the older blacks called it "De Mornin' Star."24
The teachers sought to enhance, not to replace, the pattern of life around them. They built with native materials, taught skills needed in everyday work and life, planted shrubs from the surrounding woods on the campus (seventeen varieties of native trees and shrubs are still to be seen on the campus today), and as quickly as possible utilized graduates as assistants. After completion of higher education at Hampton, many Calhoun graduates returned home as instructors. Building developed carpentry skills; painting was an "applied science." A dairy served the needs of the school, trained young men as they cared for the animals, and became a pattern for other schools. Each student received a thorough grounding in educational basics; vocational skills supplemented but did not supplant instruction in reading, writing, arithmetic, history, and the appreciation of literature. As the campus expanded, so did Calhoun's reputation as a model industrial school.25
Although the Hampton plan was the pattern for the Lowndes County school's program, the community's needs dictated some of Calhoun's activities. At the first meeting with the white teachers the older men had declared that they, too, wanted the chance to learn. The school responded with a program of adult education at night with two teachers conducting classes four evenings a week. At this time an educational program for the community in conjunction with a high school curriculum was unusual, if not unique.26
By far the most noteworthy innovation among the school's many community projects was the program to encourage black sharecroppers to purchase land. Thomas B. Patterson, a Hampton graduate who also trained boys in farm work, believed that the major reason farmers did not cultivate land more carefully was because they did not own it and feared that any improvements would raise their rent.27 The school organized a land bank to provide land for purchase. The core of the land offered for sale to tenants had earlier been secured reputedly for experimentation by Tuskegee's famous scientist, Dr. George Washington Carver. When that experiment did not materialize, plans were made to utilize the property for individual farms, and in 1894 a land company was organized. Eventually, the land bank contained over 4,081 acres. This property was then sold in forty- to sixty-acre tracts, with some ten-acre plots sold to women. Northern friends of the school financed the purchases at 8 percent interest.28 In addition to improved farming methods, blacks learned to raise food crops first (to prevent indebtedness to merchants) and a money crop such as cotton second (to be used for land payment). In three years one could buy a thirty-acre tract, as land sold for five to ten dollars an acre. The cost was equivalent to renting a farm for $ 100 a year. One Calhoun teacher reported that to blacks the promise of landownership as a means of salvation stood next to the discovery of the "Bible as a book of righteousness versus voodooism. Land-owning, or the chance to own, seems to give instant and regenerating interest to a stagnant life. It pulls the individual together for a struggle which means self-help, self-control and a consequent self-respect."29 Thus, the landownership program epitomized the Calhoun School's philosophy. In the first thirteen years $36,100 was paid on notes, with ninety-two deeds issued to eighty-five persons. These new landowners built for themselves houses of three to eight rooms, distinct improvements over the customary one-room sharecropper cabins. Even more important than the physical improvements in houses and land was the improved quality of the people's lives, as they learned that "the only freedom in life is to owe no man anything."30
One former Calhoun student recalled how both her father and grandfather bought land from the school. Consequently, as a member of a concerned family she was sent to Calhoun from kindergarten through high school, where she learned cooking and sewing in addition to the basic academic skills. Her family filled their summers with gardening and canning, all as a part of the total program that bound school and community together.31
The school also influenced the community through promotion of better health care. Since Miss Thorn's father had been a surgeon in the U.S. Navy, she was particularly aware of the dangers that accompanied carelessness about cleanliness in treating disease. Whenever she could, she treated the sick herself.32 A program of community health care became an integral part of the school's activities. The school nurse visited the sick whenever possible. Over 280 children were examined for hookworm, with ten cases found and cured, and one senior student remarked that before the hookworm treatment he had never known what it was to feel really well. Students were fitted for glasses, checked for diphtheria, and relieved of diseased tonsils; they ate balanced meals in the boarding school or bought nourishing sandwiches for a penny. 33
In addition to the adult education classes, landownership program, medical outreach, Miss Thorn instituted monthly parents' meetings, farmers' conferences, and homemaking clubs. The faculty visited in neighboring churches, homes, and schools, and Calhoun graduates supervised by Calhoun's head teacher directed two outpost schools at Sandy Ridge and Lee Place. 34
Amusements were not neglected; the school sponsored community Thanksgiving and Christmas programs, plus other informal meetings with refreshments and outdoor games. One Calhoun resident recalled that Miss Thorn organized Christmas parties especially for the local white children; she strove not to overlook any part of the community.35 Another Calhoun resident reminisced that on Christmas morning older boys from the school serenaded area residents. "I recall Mama fixing up a box of cakes for them as they came around, as far back as I can remember."36
Miss Thorn sought to meet the needs of the people, simultaneously elevating their character, always stressing standards of excellence, whether in deportment or in domestic work. A longtime resident of Fort Deposit remembered that the town's white women always preferred Calhoun trainees to do their ironing, because Miss Thorn's students were such perfectionists.37 One Calhoun graduate recalled how Miss Thorn was never too busy to notice the behavior of the students, being often in their midst before they were aware of her presence. Afflicted with an undetermined illness, she walked with crutches for years. With her crutches and black clothes she was respectfully referred to as "creepin' jesus." Miss Thorn, worried that the conduct of the local blacks on Saturdays might tempt her students, firmly changed the school week to run from Tuesday through Saturday. However, a play session at the school on Saturday afternoons compensated for the day's fellowship lost in town.38
One of the most practical contributions of the school to the community was the promotion of better roads. The terrain surrounding Calhoun made access difficult, because many of the hills were faced with a slippery mud locally known as "blue marl." Consequently, when the small farmer did produce a valuable crop, he faced the worry and expense of getting it to market. There was a railroad, but its freight charges, while not unreasonable to large planters, proved prohibitive to the small farmers. Not until forty years after the school opened was the formidable problem of engineering and financing a road through the clay-faced hills totally solved. Miss Thorn's nephew, Thorn Dickinson, a graduate of Williams College and Massachusetts Institute of Technology, laid out the stretch of road that connected Calhoun with the outside world (today identified on maps as Lowndes County 33, from Calhoun to Alabama Highway 21). The road was a joint venture between the school and the county, with the school grading it and the county surfacing it with gravel.39
Calhoun's founders consistently attempted to link the school and community. Doubtless, the keystone of this industrial plan secondary school was its staff, for they were the epitome of dedication. From its beginning under two white Yankee schoolteachers and their black counterpart, Miss Georgia Washington, the school's ideas and ideals were personified by those who directed it. The successors to the founders at Calhoun were not misfits or persons escaping from their past lives. Rather, they appear to have been intelligent, educated, dedicated men and women who genuinely wanted to improve the lives of the impoverished blacks. One 1937 account of the school in the Birmingham Age-Herald noted that the staff included graduates of Yale University, Williams College, Massachusetts Institute of Technology, while a Harvard graduate was principal. 40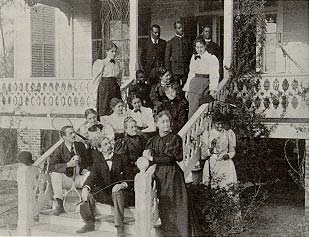 The Staff of the Calhoun School
(Hampton Institute Archives, Hampton, Virginia)
Despite Calhoun's outstanding staff and successful program more people outside Alabama than within the state were aware of the scope and nature of the Calhoun School's work. 41 The school's guest book reflects the interest that Calhoun's success stimulated in institutional circles, educational and otherwise. Among those who came to observe the school's facilities and methods were educators from China, Japan, Ceylon, Scotland, England, Poland, Korea, and various countries in Africa. Visitors also included Y. M. C. A. personnel, prospective missionaries, and an Illinois state prison warden.42
The school's reputation received national recognition in 1917 when a nationally known sociologist cited the Calhoun School as highly effective in character development, using industrial and agricultural training fitted to the needs of the community. The staff of twenty-seven included twelve whites, fifteen blacks, all of whom had graduated from reputable schools and were now devoted to their work. The sociologist's report stressed Calhoun's standards of excellence in all phases of its program, whether home training for the boarding school girls, well-kept buildings and grounds, or exactness in the keeping of the school's financial records. The organization and management of the land-purchasing companies, which had then bought and resold to small farmers approximately 4,000 acres of land, was noted as particularly impressive.43
Fifteen years later, in 1932, Charlotte Thorn, Calhoun's principal of more than forty years, died at age seventy-five. She left as her memorial a model industrial school for blacks. But a living memorial of Calhoun graduates surpassed the school per se. Calhoun graduates were always encouraged to gain as much education and experience as possible before returning to Lowndes County to strengthen the black community by joining the staff in various capacities or by establishing homes that contributed to the upgrading of the community through the participation in church and civic activities.
For some years before Miss Thorn's death the school had grown weaker, and after years of only survival existence Calhoun's trustees agreed in 1943 to deed the school property to the state of Alabama and to give the Lowndes County Board of Education responsibility for supervising
Calhoun as a public school.44 Today it operates as a typical rural public school in Alabama's Black Belt.
The demise of Calhoun as a private industrial school cannot be attributed to any one cause. One Calhoun resident believes the decline began when the school's graduates found economic and social opportunities outside Lowndes County and failed to return and to enrich both the school and the community.45 Certainly, in the years immediately after the turn of the century the small farmer's lot steadily deteriorated, until supporting a family on forty to sixty acres, no matter how frugal one might be, became almost impossible. In a sense, then, the community of independent small farms on which Miss Thorn based her school's curriculum was doomed to extinction even as the Calhoun program nurtured it. Too, the economic depression of the 1930s depleted the resources of many contributors to the school, some of whom had already begun to withdraw their support as public education gained momentum. Still others among the early supporters had died.
In 1975 a historian assigned to prepare a history and evaluation of the school for the National Register of Historic Places pronounced the school doomed because its curriculum failed to provide full educational opportunity for blacks. He further stated that its program of community work was no substitute for social, economic, and political equality.46 Whatever degree of accuracy this judgment contained, it is equally as true that the school fulfilled a need in that place and at that time when no other program could have met the needs and assured the survival, much less the progress, of a needy people.
Finally, it is certain that the death of Miss Thorn adversely affected the school. Although her successors strove to emulate her standards and spirit, it was she who had single-mindedly directed its program of industrial education toward the goal of enriching the lives-physically, mentally, socially, and spiritually-of the black people in Lowndes County. And in accomplishing her purpose she demonstrated that the industrial school of education was as feasible on the primary and secondary levels as it was on the college level. Indeed, schools such as Calhoun proved to be especially effective instruments to improve the standard of living and the quality of life among emancipated blacks in the post-Civil War South.
References:
| | |
| --- | --- |
| 1 | Charles William Dabney, Universal Education in the South (2 vols., Chapel Hill, 1936), I, 447. |
| 2 | Booker T. Washington, My Larger Education (Garden City, N.Y., 1911), 21-35, in Lucille Griffith, Alabama: A Documentary History to 1900 (University, Ala., 1968), 571. |
| 3 | Dabney, Universal Education, 98. |
| 4 | Edith Armstrong Talbot, Samuel Chapman Armstrong: A Biographical Study (New York, 1904), 208. |
| 5 | Ibid., 157. |
| 6 | Dabney, Universal Education, 499. The definitive biography of Booker T. Washington is Louis R. Harlan, Booker T. Washington: The Making of a Black Leader, 1856-1901 (New York, 1972), and Booker T. Washington: The Wizard of Tuskegee, 1901-1915 (New York, 1983). |
| 7 | For a brief discussion of the Calhoun School see Robert G. Sherer, Subordination or Liberation? The Development and Conflicting Theories of Black Education in Nineteenth Century Alabama (University, Ala., 1977), 68-69, 171 n. 12 and n. 14, and Glenn Nolan Sisk, "Alabama Black Belt: A Social History, 1875-1917" (Ph.D. dissertation, Duke University, 1951), 191-92. |
| 8 | Dabney, Universal Education, 88. |
| 9 | Ibid. |
| 10 | Ibid. |
| 11 | Louis R. Harlan, ed., The Booker T. Washington Papers (12 vols., Urbana, 1974-1982), III, 481. |
| 12 | Dabney, Universal Education, 487. |
| 13 | Harlan, Washington Papers, III, 161-62. |
| 14 | Hampton Evening Post, March 7, 1892. |
| 15 | Chicago Sunday Inter-Ocean, March 12, 1893, Manuscript Collection, The Calhoun School, Calhoun. |
| 16 | A Harvard graduate and classmate of Rutherford B. Hayes, Curry served in the Alabama legislature, the Confederate Congress, and the Confederate army. After the war he was most noted as the chief administrator first of the Slater Fund and later of the Peabody Fund, both major contributors to postwar Southern educational programs. Curry's insistence that only schools with industrial training departments receive these funds reflected his commitment to industrial education. Horace Mann Bond, Negro Education in Alabama: A Study in Cotton and Steel (New York, 1939), 202; Thomas McAdory Owen, History of Alabama and Dictionary of Alabama Biography (4 vols., Chicago, 1921), III, 444-45. |
| 17 | The Calhoun School, pamphlet (Montgomery, n.d.), Lowndes County Folder, Alabama State Department of Archives and History, Montgomery. |
| 18 | Montgomery Advertiser, March 11, 1976. |
| 19 | Harlan, Washington Papers, 111, 482-83. |
| 20 | Chicago Sunday Inter-Ocean, March 12, 1893. |
| 21 | Ibid. |
| 22 | Dabney, Universal Education, 487-88; Southern Workman, XLIII (August 1914); personal interview with Rogers Smith in Calhoun, July 29, 1982. |
| 23 | Chicago Sunday Inter-Ocean, March 12, 1893. |
| 24 | Dabney, Universal Education, 487-88; Southern Workman, XLIII (August 1914); personal interview with Rogers Smith in Calhoun, July 29, 1982. |
| 25 | Southern Workman, XLIII (August 1914). |
| 26 | Hampton Evening Post, March 7, 1892. |
| 27 | Harlan, Washington Papers, III, 438-39; Southern Workman, XII (January and March 1893). |
| 28 | W. N. Hartshorn, ed., An Era of Progress and Promise, 1863-1910 ... (Boston, 1910), 337; Dabney, Universal Education, 487; William L. McDavid, "Calhoun Land Trust: A Study of Rural Resettlement in Lowndes County, Alabama" (M.A. thesis, Fisk University, 1943). |
| 29 | Pitt Dillingham, "Land Tenure Among the Negroes," Yale Review, V (August 1896), 204-06. |
| 30 | Hartshorn, Era of Progress and Promise, 337. |
| 31 | Personal interview with Lee Taylor in Calhoun, August 7, 1982. |
| 32 | Dabney, Universal Education, 488. |
| 33 | The Calhoun School, pamphlet (Montgomery, n.d.), Manuscript Collection, The Calhoun School, Calhoun. |
| 34 | The Calhoun Colored School, pamphlet (Montgomery, n.d., earlier than above), personal collection of Joseph Cates, Ft. Deposit. |
| 35 | Personal interview with Willis Dickey in Calhoun, August 15, 1982. |
| 36 | Personal interview with Rogers Smith in Calhoun, July 29, 1982. |
| 37 | Confidential personal interview in Ft. Deposit, July 2, 1982. |
| 38 | Personal interview with Ethel Zeigler in Calhoun, August 7, 1982. |
| 39 | Personal interview with Rogers Smith in Calhoun, July 29, 1982. |
| 40 | Birmingham Age-Herald, January 19, 1937. |
| 41 | Ibid. |
| 42 | Calhoun School Guest Book, Manuscript Collection, The Calhoun School, Calhoun; Montgomery Advertiser, March 11, 1976. |
| 43 | Thomas Jesse Jones, ed., Negro Education: A Study of the Private and Higher Schools for Colored People in the United States, Bureau of Education Bulletin No. 38, 1916 (2 vols., Washington, D.C., 1917), 11, 58-59. |
| 44 | James Sheire to Milo B. Howard, Jr., May 22, 1975, The Calhoun Colored School: Nomination Form for National Register of Historic Places, Lowndes County Folder, Alabama State Department of Archives and History, Montgomery. |
| 45 | Personal interview with Rogers Smith in Calhoun, July 29, 1982. |
| 46 | James Sheire to Milo B. Howard, Jr., May 22, 1975. |


Citation for this article:
Ellis, R. H. (1984). The Calhoun School, Miss Charlotte Thorn's "Lighthouse on the Hill" in Lowndes County, Alabama. The Alabama Review, 37(3), 183-201.

Reprinted with permission from by The Alabama Review (http://www.auburn.edu/~bamarev/), copyright July, 1994, by the University of Alabama Press (http://www.uapress.ua.edu/). All rights reserved.