Printable Version
Children in Internment Camps
Digital History ID 4150
Author: Helen Murao
Date: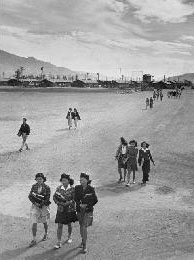 Annotation: Helen Murao, a 16-year-old orphan, had to care for two younger brothers in the Minidoka internment camp in Idaho.

Document: I had a job to do with my brothers, and I ran them like a drill sergeant .... I wouldn't let them be out after nine o'clock, I made them go to school, I made them study... I had them help me scrub their clothes so that they would be clean. Then somewhere during that time I came to feel, well, we're going to show these people. We're going to show the world. They are not going to do this to me; nobody is going to make me feel this miserable. The United States government may have made me leave my home, but they're going to be sorry . . . .I'm going to prevail, my will is going to prevail, my own life will prevail.
Source: Helen Murao, quoted in John Tateishi, And Justice for All, 46.
Copyright 2021 Digital History