Resistance to Removal
There were small pockets of opposition to the removal of Cherokees in Georgia and occasionally groups of people, such as the Quakers and abolitionists, championed Indian rights. In a petition to Congress in 1830, women from Steubenville, Ohio used their only political right - the right of petition - to protest the Cherokee removal and to argue in favor of Native American natural rights. Their petition was ignored.
In a farewell letter to the American people in 1832, George Harkins, a Choctaw leader, denounces the evils of the removal policy.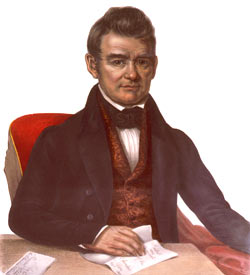 John Ross
McKenney & Hall. "John Ross, a Cherokee chief / drawn, printed & coloured at the Lithographic & Print Colouring Establishment." Daniel Rice & James G. Clark, c 1843. Prints and Photographs Division, Library of Congress.
John Ross, the principal Cherokee chief, was a leading opponent of Indian removal.
Born on October 3, 1790, Ross' Cherokee name was Tsan-Usdi, which means Little John. He became Chief of the United Cherokee Nation.
Ross made repeated trips to Washington as a representative of the Cherokee people, and he even successfully argued the tribe's case before the Supreme Court. The Supreme Court ruled in favor of the Cherokee people, but President Andrew Jackson refused to send troops to protect the American Indians on their homeland.
In 1836, Chief John Ross submitted a memorial and protest to Congress, declaring that the treaties that supposedly justified Cherokee removal had been obtained by fraud.
Read Ross' protest.