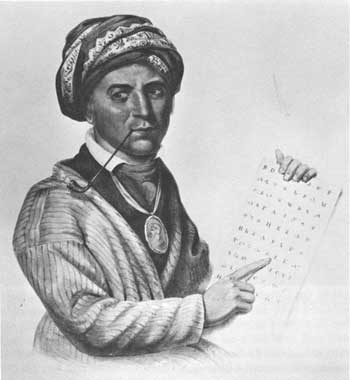 Sequoyah, inventor of the Cherokee alphabet. Engraving, date unknown. Prints and Photographs Division, Library of Congress.
Sequoyah was a Cherokee teacher and scholar whose invention of the Cherokee syllabary gave that tribe and, by example, all the Five Civilized Tribes, the civilizing gift of literacy.
Before the syllabary, the Cherokees had viewed the white man's written records as witchcraft; after the syllabary, they were able to codify their laws, adopt a written constitution, better govern and educate themselves, and express their viewpoints in print. Once they became literate in their own language, they could more easily grasp English.
Shortly after they adopted Sequoyah's syllabary, the other Five Civilized Tribes began to formulate their own and before long all of them could read and write. The syllabaries provided Christian missionaries a means of written communication with the Indians through books, pamphlets, and other religious and educational materials and was a catalyst that hastened the acculturation of all five tribes. Beyond its direct benefits, the syllabary made possible the preservation of a mass of Cherokee lore in print.