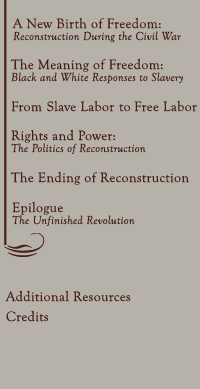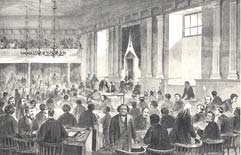 "The State Convention at Richmond, Virginia in Session,"
engraving, Frank Leslie's Illustrated Newspaper, February 15, 1868.
Click image to enlarge.

The Reconstruction Act of 1867 stipulated that all former Confederate states except Tennessee hold conventions to draft new constitutions that granted former slaves the rights of citizenship..
265 African Americans, or twenty-five per cent of the total delegates, attended these conventions held in Southern states in 1868-69, making them the first public bodies in American history with substantial black representation.
In Virginia, blacks made up one-fifth of the convention.