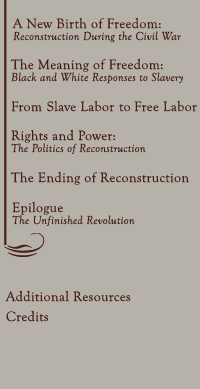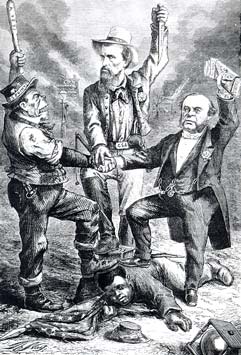 "This Is A White Man's Government,"
Harper's Weekly, September 5, 1868.
Click image to enlarge.

The 1868 presidential campaign revolved around the issues of Reconstruction. The Democrats' nominee, Horatio Seymour, ran on a platform opposing Reconstruction.
"This Is A White Man's Government" became the slogan of a Democratic campaign that openly appealed to racial fears and prejudice.
Political cartoonist Thomas Nast ridiculed the Democratic party as a coalition of Irish immigrants (left), white supremacists like Nathan Bedford Forrest, leader of the Ku Klux Klan (center), and Northern capitalists represented by Horatio Seymour (right). Nast's cartoon depicted Democrats as the oppressors of the black race, represented by a black Union soldier felled while carrying the American flag and a ballot box.