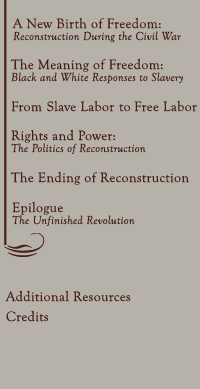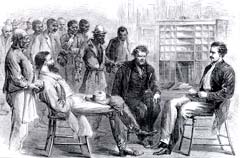 "Office of the Freedmen's Bureau,
Memphis, Tennessee,"
Harper's Weekly, June 2, 1866.
Click image to enlarge.

In 1865, Congress established the Freedmen's Bureau to provide assistance to former slaves. Union Army general Oliver O. Howard was the Bureau's Commissioner.
Among other responsibilities, bureau agents negotiated labor contracts and settled disputes between black and white Southerners. The Bureau's jurisdiction in civil matters eventually became a point of controversy.

Read An Act to establish a Bureau for the Relief of Freedmen and Refugees