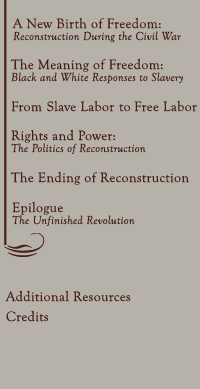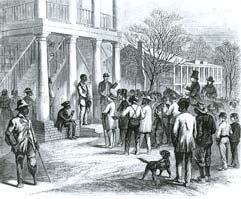 "Selling a Freeman to Pay His Fine
at Monticello, Florida,"
Frank Leslie's Illustrated Newspaper,
January 19, 1867.
Click image to enlarge.

The Black Codes, a series of laws passed by Southern states to define freedman's rights and responsibilities, imposed serious restrictions upon former slaves.
According to Florida's Black Code, blacks who violated broke labor contracts could be whipped, pilloried, and sold for up to one year's labor.
The Black Codes created an uproar among many Northerners, who considered them to be another form of slavery.

Learn more about the Southern "Black Codes" of 1865-66