Printable Version
Nixon Resigns
Digital History ID 1123

Date:1974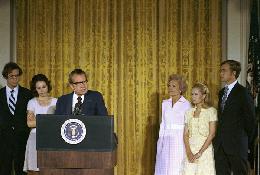 Annotation: Shortly after 1 A.M. on the morning of June 17, 1972, a security guard at the Washington, D.C., Watergate office complex spotted a strip of masking tape covering the lock of a basement door. He removed it. A short while later, he found the door taped open again. He called the police, who found two more taped locks and a jammed door leading into the offices of the Democratic National Committee. Inside they discovered five men carrying cameras and electronic eavesdropping equipment.
At first, the Watergate break-in seemed like a minor incident. The identities of the burglars, however, suggested something more serious. One, James McCord, was chief security coordinator of the Committee for the Reelection of the President (CREEP). Others had links to the CIA.
Over the course of the next year, it became clear that the break-in was one of a series of secret operations coordinated by the White House. Financed by illegal campaign contributions, these operations posed a threat to America's constitutional system of government and eventually forced Richard Nixon to resign the presidency.
The Watergate break-in had its roots in Richard Nixon's obsession with secrecy and political intelligence. To stop "leaks" of information to the press, in 1971 the Nixon White House assembled a team of "plumbers," consisting of former CIA operatives. This private police force, paid for in part by illegal campaign contributions, engaged in a wide range of criminal acts, including phone tapping and burglary, against those on its "enemies list."
In 1972 when President Nixon was running for reelection, CREEP authorized another series of illegal activities. It hired Donald Segretti to stage "dirty tricks" against potential Democratic nominees, which included mailing letters that falsely accused one candidate of homosexuality and fathering an illegitimate child. It considered a plan to use call girls to blackmail Democrats at their national convention and to kidnap antiNixon radical leaders. The committee also authorized $250,000 for intelligence-gathering operations. Four times the committee sent burglars to break into Democratic headquarters.
Precisely what the campaign committee hoped to learn from these intelligence-gathering activities remains a mystery. It seems likely that it was seeking information about the Democratic party's campaign strategies and any information the Democrats had about illegal campaign contributions to the Republican party.
On June 23--six days after the botched break-in--President Nixon ordered aides to block an FBI investigation of White House involvement in the break-in on grounds that an investigation would endanger national security. He also counseled his aides to lie under oath, if necessary.
The Watergate break-in did not hurt Nixon's reelection campaign. Between the activities of the burglars and the president were layers of deception that had to be carefully peeled away. Washington Post reporters Bob Woodward and Carl Bernstein, sensing that the break-in was only part of a larger scandal, slowly pieced together part of the story. Facing long jail terms, some of the burglars began to tell the truth, and the truth illuminated a path leading to the White House.
If Nixon had few political friends, he had legions of enemies. Over the years he had offended or attacked many Democrats--and a number of prominent Republicans. His detractors latched onto the Watergate issue with the tenacity of bulldogs.
The Senate appointed a special committee to investigate the Watergate scandal. Most of Nixon's top aides continued the cover-up. John Dean, the president's counsel, did not. Throughout the episode he had kept careful notes, and in a quiet precise voice he told the Senate Watergate Committee that the president was deeply involved in the cover-up. The matter was still not solved. All the committee had was Dean's word against the other White House aides.
On July 16, 1973, a former White House employee dropped a bombshell by testifying that Nixon had recorded all Oval Office conversations. Whatever Nixon and his aides had said about Watergate in the Oval Office, therefore, was faithfully recorded on tape.
Nixon tried to keep the tapes from the committee by invoking executive privilege, insisting that a president had a right to keep confidential any White House communication, whether or not it involved sensitive diplomatic or national security matters. When Archibald Cox, a special prosecutor investigating the Watergate affair, persisted in demanding the tapes, Nixon ordered his attorney general, Elliot Richardson, to fire him; Richardson refused and resigned; Richardson's assistant, William Ruckelshaus, also resigned. Ruckelshaus's assistant, Robert Bork, finally fired Cox, but Congress forced Nixon to name a new special prosecutor, Leon Jaworski.
In the midst of the Watergate investigations another scandal broke. Federal prosecutors accused Vice President Spiro Agnew of extorting payoffs from building contractors while he was Maryland's governor and Baltimore County executive. In a plea bargain, Agnew pleaded no contest to a relatively minor charge--that he had falsified his income tax in 1967--in exchange for a $10,000 fine. Agnew was succeeded as vice president by Gerald Ford, whom Nixon appointed.
The Watergate scandal gradually came to encompass not just the cover-up but a wide range of presidential wrongdoings, including political favors to powerful business groups in exchange for campaign contributions; misuse of public funds; deceiving Congress and the public about the secret bombing of Cambodia; authorization of illegal domestic political surveillance and espionage against dissidents, political opponents, and journalists; and attempts to use FBI investigations and income tax audits by the IRS to harass political enemies.
On July 24, 1974, the House Judiciary Committee recommended that the House of Representatives impeach Nixon for obstruction of justice, abuse of power, and refusal to relinquish the tapes. On August 5 Nixon obeyed a Supreme Court order to release the tapes, which confirmed Dean's detailed testimony. Nixon had indeed been involved in a cover-up. On August 9 he became the first American president to resign from office. The following day Gerald Ford became the new president. "Our long national nightmare," he said, "is over."

Document: Washington, Aug. 8 -- Richard Milhous Nixon, the 37th President of the United States, announced tonight that he had given up his long and arduous fight to remain in office and would resign, effective at noon tomorrow.
At that hour, Gerald Rudolph Ford, whom Mr. Nixon nominated for Vice President last Oct. 12, will be sworn in as the 38th President, to serve out the 895 days remaining in Mr. Nixon's second term.
Less than two years after his landslide re-election victory, Mr. Nixon, in a conciliatory address on national television, said that he was leaving not with a sense of bitterness but with a hope that his departure would start a "process of healing that is so desperately needed in America."
He spoke of regret for any "injuries" done "in the course of the events that led to this decision." He acknowledged that some of his judgments had been wrong.
The 61-year old Mr. Nixon, appearing calm and resigned to his fate as a victim of the Watergate scandal, became the first President in the history of the Republic to resign from office. Only 10 months earlier Spiro Agnew resigned the Vice-Presidency.
Speaks of Pain at Yielding Post
Mr. Nixon, speaking from the Oval Office, where his successor will be sworn in tomorrow, may well have delivered his most effective speech since the Watergate scandals began to swamp his Administration in early 1973.
In tone and content, the 15-minute address was in sharp contrast to his frequently combative language of the past, especially his first "farewell" appearance- that of 1962, when he announced he was retiring from politics after losing the California governorship race and declared that the news media would not have "Nixon to kick around" anymore.
Yet he spoke tonight of how painful it was for him to give up the office.
"I would have preferred to carry through to the finish whatever the personal agony it would have involved, and my family unanimously urged me to do so," he said.
Puts 'Interests of America First'
"I have never been a quitter," he said. "To leave office before my term is completed is opposed to every instinct in my body." But he said that he had decided to put "the interests of America first."
Conceding that he did not have the votes in Congress to escape impeachment in the House and conviction in the Senate, Mr. Nixon said, "To continue to fight through the months ahead for my personal vindication would almost totally absorb the time and attention of the President and the Congress in a period when our entire focus should be on the great issues of peace abroad and prosperity without inflation at home."
"Therefore," he continued, "I shall resign the Presidency effective at noon tomorrow. Vice President Ford will be sworn in as President at that hour in this office."
Then he turned again to his sorrow at leaving. Although he did not mention it in his speech, Mr. Nixon had looked forward to being President when the United States celebrates its 200th anniversary in 1976.
"I feel a great sadness," he said.
Mr. Nixon expressed confidence in Mr. Ford to assume the office, "to put the bitterness and divisions of the recent past behind us."
"By taking this action, I hope that I will have hastened the start of that process of healing which is so desperately needed in America," he said. "I regret deeply any injuries that may have been done in the course of the events that led to this decision. I would say only that events that if some of my judgments were wrong -- and some were wrong -- they were made in what I believed at the time to be the best interests of the nation."
Further, he said he was leaving "with no bitterness" toward those who had opposed him.
"So let us all now join together in affirming that common commitment and in helping our new President succeed for the benefit of all Americans," he said.
As he has many times in the past, Mr. Nixon listed what he considered his most notable accomplishments of his five and half years in office -- his initiatives in foreign policy, which he said had gone a long way toward establishing a basis for world peace.
Theodore Roosevelt Is Quoted
And, at the end, he expressed his own philosophy -- that to succeed is to be involved in struggle. In this he quoted Theodore Roosevelt about the value of being "the man in the arena whose face is marred by dust and sweat and blood" and who "spends himself in a worthy cause."
After spending himself in a long political career, Mr. Nixon is scheduled to fly to his home in San Clemente, Calif., and retirement tomorrow while Mr. Ford is being sworn in the Oval Office.
A White House spokesman said tonight that Mr. and Mrs. Nixon and their family would bid farewell to Cabinet members and staff personnel at 9:30 A. M. tomorrow in the East Room. Then they will board a helicopter at 10 A. M. for the short trip to Andrews Air Force Base, where they will emplane on the Spirit of '76, a jet aircraft, for their flight to San Clemente.
Ronald L. Ziegler, the Presidential adviser and press secretary, also said that Mr. Nixon's letter of resignation would be delivered to the office of Secretary of State, Kissinger in the Executive Office Building adjacent to the White House by noon tomorrow.
Mr. Nixon's announcement came only two days after he told his Cabinet that he would not resign but would let the constitutional impeachment process run its course, even though it was evident he would be removed from office after a trial by the Senate.
In the next 48 hours the pressures for him to resign and turn the reins of the Government over to Mr. Ford became overwhelming.
His chances of being acquitted were almost hopeless. Senator Barry, Goldwater, the Arizona conservative who was the Republican Presidential candidate in 1964, told him that he had no more than 15 votes in the Senate, far short of the 34 he needed to be sure of escaping conviction. Members of his own staff, including Gen. Alexander M. Haig Jr., the White House chief of staff, strongly recommended that he step down in the national interest.
In the end only a small minority of his former supporters were urging him to stay and pledging to give him their support. It was his friends, not his legions of enemies, that brought the crucial pressures for resignation.
Seventeen months of almost constant disclosures of Watergate and related scandals brought a steady attrition of support, in the country and in Congress, for what many authorities believed was the most powerful Presidency in the history of our nation.
However, a Presidential statement of last Monday and three transcripts of Presidential conversations that Mr. Nixon chose to make public ultimately precipitated the crush of events of the last week.
In that statement, Mr. Nixon admitted, as the transcript showed, that, on June 23, 1972, he ordered a halt to the investigation of the break-in at the Democratic headquarters in the Watergate complex here six days earlier by persons in the employ of agents of Mr. Nixon's re-election campaign. He also admitted that he had kept the evidence from both his attorneys and the House Judiciary Committee, which had recommended that the House impeach him on three general charges.
Then came the avalanche. Republicans, Southern Democrats and others who had defended Mr. Nixon said that these actions constituted the evidence needed to support the article of impeachment approved by the House Judiciary Committee charging obstruction of justice. And it gave new support to other charges that Mr. Nixon had widely abused his office by bringing undue Presidential pressures to bear on sensitive Government agencies.
As the pressures mounted and Mr. Nixon held publicly to his resolve not to resign, the capital was thrown into a turmoil. A number of Senators anxious for a resignation began publicly predicting one.
At the White House yesterday, Mr. Nixon met in his White House offices with Mrs. Nixon and his two daughters, Mrs. David Eisenhower and Mrs. Edward F. Cox, and with his close aides. Members of his staff, acting independently of the Congressmen, sent him memorandums he had requested as to their recommendations. Most called for resignation rather than taking the country through a painful impeachment debate and vote in the House and a trial in the Senate.
Last night, Raymond K. Price and other speech writers were ordered to prepare a resignation statement for use tonight. Secretary of State Kissinger met with the President late in the evening and Mr. Nixon told him that he would resign in the national interest.
At 11 A.M. today, as crowds for the third day gathered along Pennsylvania Avenue outside the White House, President Nixon summoned Mr. Ford to his Oval Office and officially informed him that he would submit his resignation tomorrow to the Secretary of State, as provided by Federal law, and that Mr. Ford would become President.
Shortly after noon, Mr. Ziegler, the President's confidant and press secretary, his face saddened and weary, appeared in the crowded White House press room and announced that the President would go on national radio and television tonight to address the American people. As with most previous such announcements, he did not say what the President would talk about.
But by that time, other Presidential aides were confirming that Mr. Nixon planned to resign, and the tensions that had been building for days subsided.
At 7:30 P.M. Mr. Nixon met in his office in the Executive Office Building with a bipartisan Congressional leadership group -- James O. Eastland, Democrat of Mississippi, President pro tem of the Senate; Mike Mansfield, Democrat of Montana, the Senate majority leader, Hugh Scott, Republican of Pennsylvania, the Senate minority floor leader, Carl Albert, Democrat of Oklahoma, the Speaker of the House, and John J. Rhodes, Republican of Arizona, the minority leader. The meeting was to give them formal notice of his resignation.
Among the White House staff today there was a sadness but there were no tears, according to those there. Mr. Nixon, who was described as wretched and gray yesterday while wrestling with his decision, was described today as relaxed. To some, he appeared relieved.
He ordered Mr. Price to begin drafting the resignation speech yesterday, even before he made his decision to resign, aides said. Five drafts of it were written before it was turned over to Mr. Nixon to make his own changes.
It was exactly six years ago last night that Mr. Nixon was nominated on the first ballot at the Republican National Convention to be the party's nominee for President, a note of irony that did not escape members of the President's staff.
That evening marked the beginning of an ascension to power that was to put the Nixon mark on an important segment of history. After a first term marked by innovations in foreign policy and a return of resources to the state and local governments in domestic policy, Mr. Nixon in 1972, won re-election with 60.7 per cent of the vote.
In early 1973, as he ended American military involvement in the Vietnam war and as he moved to strengthen the powers of his office in a multitude of ways, his popularity rating in the Gallup Poll registered 68 per cent. But as the Watergate disclosures broke his rating dropped quickly and was below 30 per cent before the end of the year.
Mr. Nixon made a number of counterattacks to win back his lost popularity. He campaigned from time to time across the country as if he was running for office. He disclosed information about his taxes and property. He hired a succession of lawyers to defend him in the courts and in Congress.
He made television and radio appearances. He ordered his subordinates to step up their activities to show that the Government's business was moving ahead. He made foreign trips to show he was still a world leader.
Cheered in Tour of Middle East
In the Middle East in June he was cheered by vast throngs, and he held a summit meeting with Soviet leader, Leonid I. Brezhnev, in Moscow.
Yet, when he returned to the United States, the Gallup Poll showed his rating at 24 per cent and the Watergate charges broke anew as the House Judiciary Committee stepped up its impeachment inquiry. His Administration was tottering when he made his remarkable statement last Monday, apparently in an effort to put his own interpretation on information that was expected to have been made public at the Watergate trials as a result of a Supreme Court decision upholding a court order for the information.
When the decision to resign came, Mr. Nixon moved to achieve an orderly transition of power to Mr. Ford. General Haig, who has had broad delegated authority in recent months, met frequently with the Vice President to brief him on policy, as did other Administration officials.
Mr. Kissinger gave a number of assurances that the nation's "bipartisan foreign policy" would remain firmly in place. The Defense Department announced that American military forces around the world would continue under normal status. And across this city thousands of Federal employees performed their chores as if nothing was happening.
Source: New York Times, August 8, 1974
Copyright 2021 Digital History