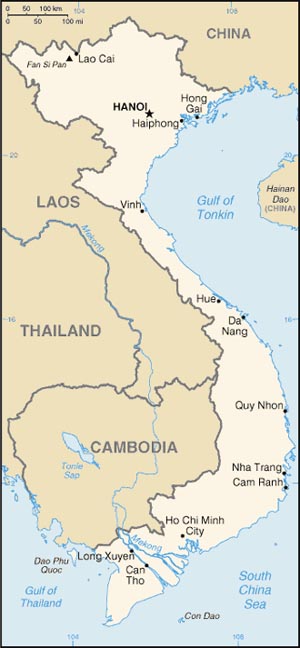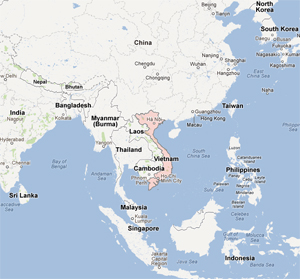 Vietnam is located on the eastern side of the Indochina Peninsula in Southeast Asia.
Geography
Area: 331,114 sq. km. (127,243 sq. mi.); equivalent in size to Ohio, Kentucky, and Tennessee combined.
Cities (2009): Capital--Hanoi (pop. 6.472 million). Other cities--Ho Chi Minh City (formerly Saigon; pop. 7.163 million), Haiphong (pop. 1.841 million), Danang (pop. 890,500), Can Tho (pop. 1.189 million).
Terrain: Varies from mountainous to coastal delta.
Climate: Tropical monsoon.

People

Nationality: Noun and adjective--Vietnamese (sing. and pl.).
Population (2011): 90 million.
Annual population growth rate (2011): 1.077%.
Ethnic groups (2009): 54 groups including Vietnamese (Kinh) (73.594 million, or 85.7% of the population), Tay (1.89%), Thai (1.8%), Muong (1.47%), Khmer (1.46%), Chinese (0.95%), Nung (1.12%), Hmong (1.24%).
Religions (2008): Buddhism (approx. 50%), Catholicism (8%-10%), Cao Dai (1.5%-3%), Protestantism (0.5%-2%), Hoa Hao (1.5%-4%), Islam (0.1%), and other animist religions.
Languages: Vietnamese (official), English (increasingly favored as a second language), some French, Chinese, and other ethnic minority languages.
Education (2009): Literacy--94%.
Health (2011): Birth rate--17.07 births/1,000 population. Infant mortality rate--20.9 deaths/1,000 live births. Life expectancy--73 yrs. Death rate--5.96/1,000 population.

Government

Type: Single-party constitutional republic (Communist Party).
Independence: September 2, 1945.
Constitution: April 15, 1992.
Branches: Executive--president (head of state and chair of National Defense and Security Council) and prime minister (heads cabinet of ministries and commissions). Legislative--National Assembly. Judicial--Supreme People's Court; Prosecutorial Supreme People's Procuracy.
Administrative subdivisions: 58 provinces, 5 municipalities (Can Tho, Haiphong, Danang, Hanoi, Ho Chi Minh City).
Political party: Communist Party of Vietnam (CPV) with over 3 million members, formerly (1951-76) Vietnam Worker's Party, itself the successor of the Indochinese Communist Party founded in 1930.
U.S. Department of State World Factbook
http://www.state.gov/r/pa/ei/bgn/4130.htm
Also see A Country Study: Vietnam at the Library of Congress
http://memory.loc.gov/frd/cs/vntoc.html