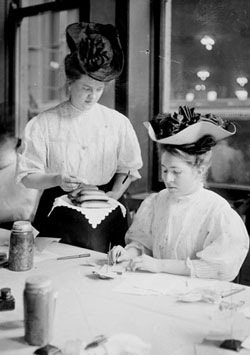 Diet, food preparation, and attitudes toward eating have changed dramatically over the past 150 years, A century and a half ago, no American ate a hot dog, a hamburger, or an ice cream cone—foods that came to define the American diet.

Cooking was an extremely time-consuming task. Chickens needed to be plucked, fish scaled, and coffee beans ground.

Restaurant meals were a luxury largely confined to the well-to-do.

Attitudes toward diet were very different than they have since become. In the late 19th century, corpulence was a sign of propersperity and well-being. Today, in contrast, obesity is considered dangerous to peoples' health and slimness is regarded as desirable.
Breakfast cereals, fast foods, and processed foods are relatively recent developments, as are pizza and chop suey.