eXplorations>The Revolution>Teacher Resources>The Colonies Reduced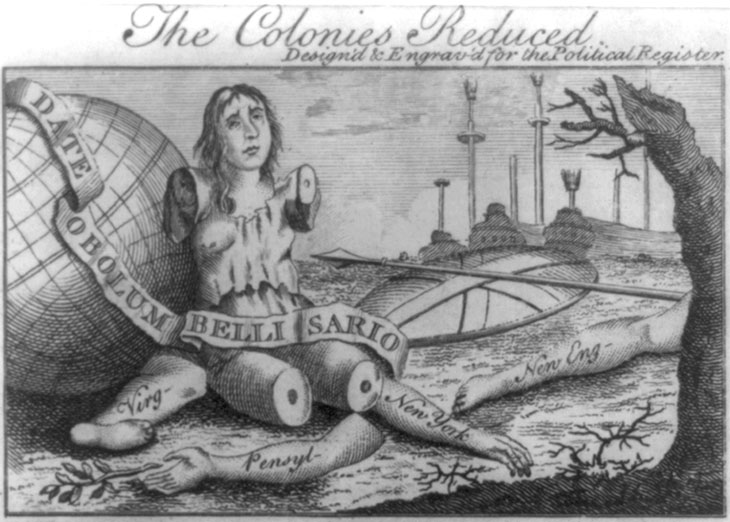 The Colonies Reduced
Attributed to Benjamin Franklin
Prints and Photgraphs Division, Library of Congress
This 1767 cartoon was published in Great Britain and possibly created by Benjamin Franklin.
It warned of the consequences of enforcing the Stamp Act by alienating the colonies.
The cartoon shows Britannia contemplating her reduced empire while surrounded by her amputated limbs that are marked Virg- (Virginia), Pennsyl- (Pennsylvania), New York, and New Eng- (New England). Her torso leaning against a globe.
Britannia wears a banner with the words, "Date Obolum Bellisario." This translates to "Give a farthing to Bellisarius." People living during the American revolution would have known the story of Belisarius.
...Belisarius, who, after having obtained many glorious victories over the enemies of his country, is said to have been reduced to such extremity of indigence, that, in his old age, when he was deprived of his eyesight, he sat upon the highway like a common mendicant, imploring the charity of passengers in the piteous exclamation of Date obolum Belisario; that is, "Spare a farthing to your poor old soldier Belisarius."
According to records at Monticello, Count Dugnani, the papal nuncio in Paris during Jefferson's time there, sent an engraving of the beggar Belisarius to Jefferson at Monticello by way of two American students whom he met in Rome. Jefferson hung the prints in the Tea Room and, in writing the count, called them "chef d'oeuvres of that art, which placed among the ornaments of my house, renew to me daily the memory of your friendship." The story of the Roman general Belisarius was popularized by the French writer Marmontel, and Jefferson owned a 1768 London edition of his novel, Belisarius.
An olive branch has dropped from one of Britannia's hands. Idle ships sit in the harbor in the backgound, and a broken tree on the right mimics Britannia.
Franklin, who was in England representing the colonists' claims, arranged to have the image printed on cards that he distributed to members of Parliament.