What exactly happened on March 6, 1836 at the Alamo?
You may wish to view our Digital Story about the Alamo by Michael Ray as an introduction to this section.
Read primary source documents that describe the events at the Alamo, assess their reliability, and reconstruct the basic facts regarding what took place.
In assessing the documents, you might ask the following questions:
1. Was the account recorded around the time of the battle or much later?
2. Was the author of the account in a position to observe the details recorded?
3. How do the accounts differ from one another in terms of details: for example, whether any of the Alamo's defenders survived the battle, the size of the Mexican army, and the number of deaths on both sides of the battle.
Note: The references in the documents to Bexar refer to the full Spanish name for San Antonio, San Antonio de Béxar.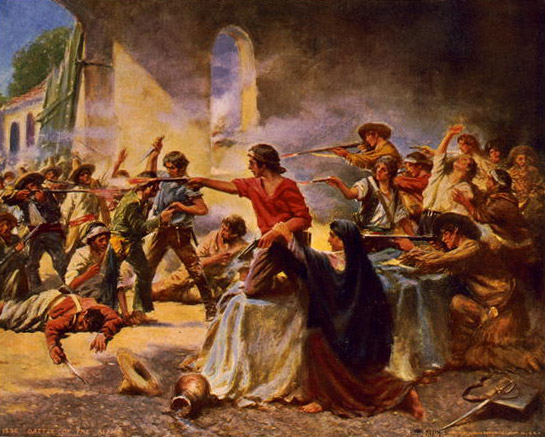 Battle of the Alamo, Mexicans and Texans fight to the death
CREDIT: Moran, Percy, artist. "Battle of the Alamo." Reproduction of an original painting. Joliet, Illinois, Gerblach Barklow Co., copyright 1912. Prints and Photographs Division, Library of Congress.